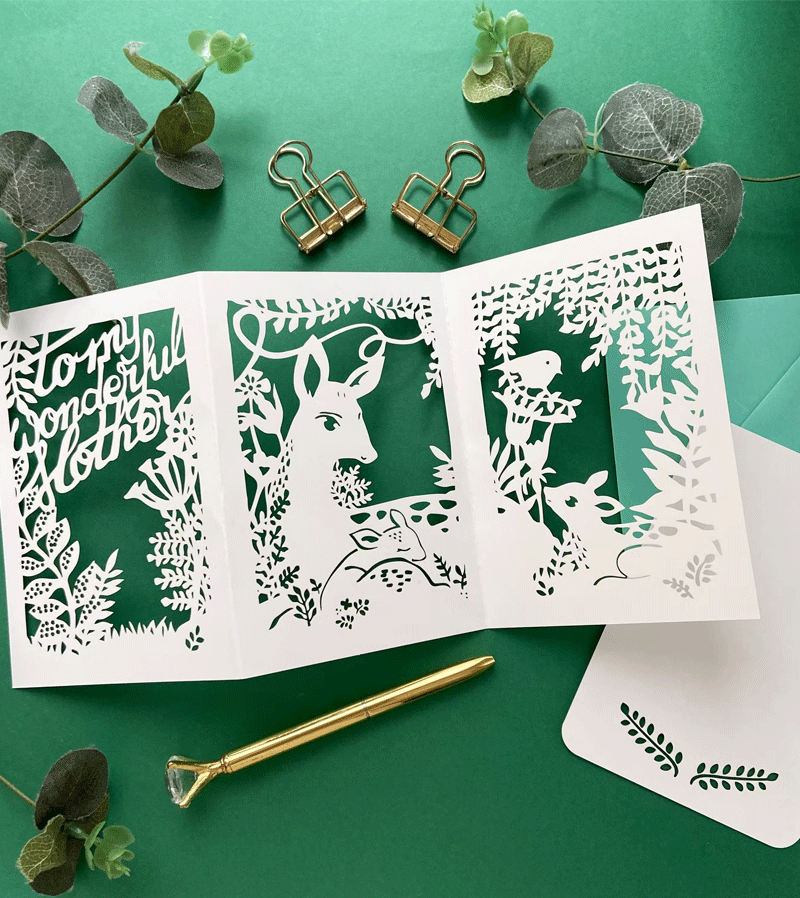 Paper Cut 3D Wonderful Mother Card
Make your Mother's Day special with this beautiful and uniquely hand designed piece. The card features a whimsical woodland scene of a mother deer cuddling her two little fawns, with the woven message reads "To my wonderful mother." The triptych design is originally hand drawn and cut with imagery of a woodland deer, birds and insects alike to create a romantic and sentimental mood. It is a special card that can be proudly displayed over one's mantel piece and a great way to express your appreciation and sentiment on your mother's birthday or the upcoming Mother's Day. Each item is measured 12x4" (31.5 x15 cm) and is accompanied with a separate sheet for your own message. Comes pre-folded.
 Proudly produced and hand finished in our North London studio, United Kingdom.
Dimensions 6x12"
A storyteller at heart, Chau hand draws her visual stories and turn them into these whimsical card designs. Each design is embedded with characters and visuals from fragments of dreams, childhood memories to pure imagination. 
 Each item is hand drawn and cut to preserve its most natural feel.